The Golden Globe for Best Original Song was awarded to John Legend and Common for their song "Glory" from the film "Selma." In an exclusive video shared on NME, Common and John Legend discussed how the two decided to collaborate together, explaining that the song is meant to capture the spirit of fighting for change that is demonstrated in the film and the inequality that "still exists." "The first day I stepped on the set of 'Selma' I began to feel like this was bigger than a movie," Common said during his acceptance speech. "As I got to know …
The Golden Globe for Best Original Song was awarded to John Legend and Common for their song "Glory" from the film "Selma."
In an exclusive video shared on NME, Common and John Legend discussed how the two decided to collaborate together, explaining that the song is meant to capture the spirit of fighting for change that is demonstrated in the film and the inequality that "still exists."
"The first day I stepped on the set of 'Selma' I began to feel like this was bigger than a movie," Common said during his acceptance speech. "As I got to know the people of the Civil Rights Movement, I realized I am the hopeful black woman who was denied her right to vote. I am the caring white supporter killed on the front lines of freedom. I am the unarmed black kid who maybe needed a hand, but instead was given a bullet. I am the two fallen police officers murdered in the line of duty. 'Selma' has awakened my humanity."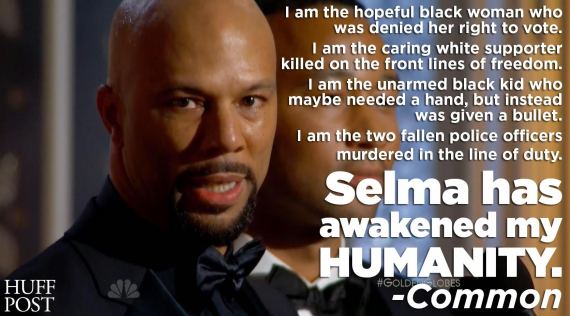 This is Common and John Legend's first nomination and win, beating out Lorde's "Yellow Flicker Beat" (from "The Hunger Games: Mockingjay – Part 1"), Lana Del Rey's "Big Eyes" (from "Big Eyes"), Patti Smith and Lenny Kaye's "Mercy Is" (from "Noah") and Sia and Greg Kurstin's "Opportunity" (from "Annie").
U2 and Danger Mouse's "Ordinary Love" was crowned Best Original Song at the 2014 Golden Globe Awards, from the soundtrack to the film "Mandela: Long Walk to Freedom."
Full HuffPost Entertainment coverage of the Golden Globes can be found here. The full list of Golden Globes winners is here.
Visit link – 
Read Common's Powerful Speech After His Best Original Song Win At The Golden Globes